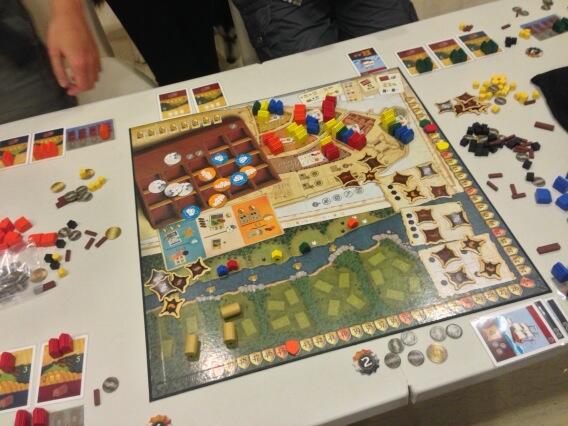 there's a lot of things to like about this game
Managed to get this to the table again because Jon has never played it and I think we had fun. Even though we AP quite a bit during our own turns and as Jon mentioned, this is an easy game, I found the game still moved on quite smoothly.
I guess the main reason why there was some AP was because things may change before it hits your turn. But that doesn't mean the game doesnt have strategic goals for you to push for. I tried to do the settlement strategy where I got for myself enough wood + grain to use it for bidding but I got sidetracked halfway and did not manage to accomplish this. Jon did so though eventually. I also got distracted by the fur and was too quick to pull the trigger to trade in the fur for the ships.
As you can see I think I am 4th (I am blue) and that kinda sucked. I also realise that what you can do very much depends on how the auction chits are arranged and the order in which they are bided. I still find the game quite interesting and I want to have a few more plays to flesh out other strategies that maybe available in the game. White Goblin games is asking people who are interested in an expansion for this game to write in to them and I would like to see what they could do with the expansion. As is right now the board looks pretty full already so not sure what they are going to add. Jon had fun with the game!
Recommended!